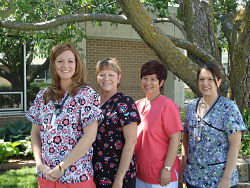 Sleep Study Center
Sleep apnea is very dangerous sleep disorder, affecting more than 12 million Americans. It is more common in men than women, but can occur in either gender. The main symptom associated with sleep apnea is loud snorting or gasping during sleep. If the disorder remains untreated, it can have potentially serious results:
Depression
Diabetes
Headaches
Heart attack
Heart failure
High blood pressure
Impotency
Irregular heart beats
Memory problems
Weight gain
Worsening of ADHD
Stroke
Other cardiovascular diseases
In addition, untreated sleep apnea may be responsible for poor performance in everyday activities, such as at work and school, motor vehicle crashes, as well as academic underachievement in children and adolescents.
Sleep apnea can affect anyone at any age, even children. Risk factors for sleep apnea include:
Being overweight
Being over the age of forty
Having a large neck size (17 inches or greater in men and 16 inches or greater in women)
Having large tonsils, a large tongue or a small jaw bone
Having a family history of sleep apnea
Gastroesophageal reflux (GERD)
Nasal obstruction due to a deviated septum, allergies or sinus problems
Call Linda Laumann at (712) 382-1515 for more information.
Visiting Hours:


Monday - Friday

7:00 am - 5:00 pm

Check-in at Main Entrance


After Hours | Weekends

Ring the Bell at Entrance

Emergency Room Hours:


24 hours a day

7 days a week

365 days a year

Outpatient Clinic Hours:


Monday - Friday

7:00 am - 3:30 pm

Saturday Clinic Hours:
Schedule Your Visit:
Right Care. Right Here.
At George C. Grape Community Hospital, we understand that healthcare is evolving. Advancements in medicine and strides in technology are providing local communities access to better healthcare. It is our desire to provide the best care in our region. Our staff will be here to help you and your loved ones when the need arises. The comfort and care of our patients is our major goal.
Services are provided without regard to race, color, national origin, handicap, age, gender, religious affiliation, or socio-economic status.
More details.