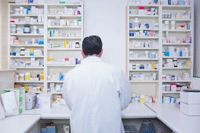 Pharmacy
At George C. Grape Community Hospital, our pharmacy department is a vital part of the healthcare team. We strive to provide safe, effective, and cost-efficient use of medications to enhance our patients' complete continuity-of-care. Our goal is to provide the highest quality pharmaceutical care possible.
Some of the services we provide include:
On-site Clinical Pharmacist M-F 7:00 a.m. to 4:00 p.m.
Remote Pharmacy Services - 24 hours a day, 7 days a week
Comprehensive patient medication review
Clinical review of all inpatient medication orders
Individualized drug monitoring
Patient education and assistance
Discharge medication review
Outpatient infusion services, including chemotherapy and immunotherapy
Visiting Hours:


Monday - Friday

7:00 am - 5:00 pm

Check-in at Main Entrance


After Hours | Weekends

Ring the Bell at Entrance

Emergency Room Hours:


24 hours a day

7 days a week

365 days a year

Outpatient Clinic Hours:


Monday - Friday

7:00 am - 3:30 pm

Saturday Clinic Hours:
Schedule Your Visit:
Right Care. Right Here.
At George C. Grape Community Hospital, we understand that healthcare is evolving. Advancements in medicine and strides in technology are providing local communities access to better healthcare. It is our desire to provide the best care in our region. Our staff will be here to help you and your loved ones when the need arises. The comfort and care of our patients is our major goal.
Services are provided without regard to race, color, national origin, handicap, age, gender, religious affiliation, or socio-economic status.
More details.