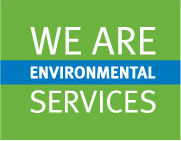 Environmental Services
The technicians in our environmental services department maintain environmental and infection control standards within established policies and procedures of the Hospital. The department follows standard practices and procedures and complies with regulatory requirements.
The work we do can save lives. The work we do has impact. We are environmental services.
"Healthcare environmental services professionals care for a highly complex, regulated environment where sick people want and need a care environment conducive to recovery and wellness. That very environment plays a key role in customer/patient satisfaction and quality outcomes throughout a patients' continuum of care. Simply put, healthcare environmental services contributes to saving lives every day. This is a critical distinction because the requisite knowledge needed to provide a safe, clean clinical environment extends from the emergency room to the surgical suite and everything in between."
Quoted from an article in EXPLORE | Fall 2016 by Patti Costello, Executive Director of the Association for the Healthcare Environment.
Follow this link
to read more about our commitment to Environmental Services.
Visiting Hours:


Daily Hours

8:00 am - 8:00 pm

Check-in at Main Entrance


After Desk Hours | Weekends

Ring the Bell at Entrance

Or, call the number below

Emergency Room Hours:


24 hours a day

7 days a week

365 days a year

Specialty Clinic Hours:


Monday - Friday

7:00 am - 3:30 pm

Saturday Clinic Hours:
Contact Information
Schedule Your Visit:
Right Care. Right Here.
At George C. Grape Community Hospital, we understand that healthcare is evolving. Advancements in medicine and strides in technology are providing local communities access to better healthcare. It is our desire to provide the best care in our region. Our staff will be here to help you and your loved ones when the need arises. The comfort and care of our patients is our major goal.
Services are provided without regard to race, color, national origin, handicap, age, gender, religious affiliation, or socio-economic status.
More details.