Hospital Staff Related to Miss Nebraska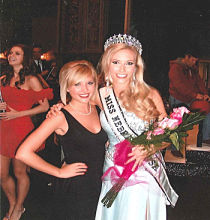 Lorenzen's daughter is Miss Nebraska
Ellie Lorenzen, a senior at Lindenwood University in St. Charles, Missouri was selected as Miss Nebraska this past week which caused quite a warm glow of pride in the Physical Therapy Department.
Ellie is a graduate of Millard North High School and is a senior at Lindenwood University. She is state director for Missouri's Miss Amazing pageant, a program for girls and young women with disabilities which helps them to build confidence and self-esteem in a supportive environment.
Caption:
Steve Lorenzen, Physical Therapist at George C. Grape Community Hospital is the proud father of Ellie Lorenzen, the newly crowned Miss Nebraska.
Facility Hours:
24 hours a day
7 days a week
365 days a year
Contact Us:
Phone:
(712) 382-1515
Fax:
(712) 382-1503
Right Care. Right Here.
At George C. Grape Community Hospital, we understand that healthcare is evolving. Advancements in medicine and strides in technology are providing local communities access to better healthcare. It is our desire to provide the best care in our region. Our staff will be here to help you and your loved ones when the need arises. The comfort and care of our patients is our major goal.
Services are provided without regard to race, color, national origin, handicap, age, gender, religious affiliation, or socio-economic status.
More details.