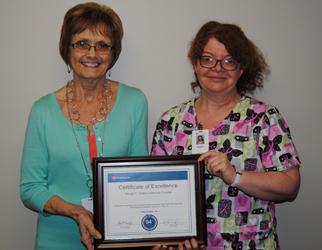 High Scores for Emergency Care
April, 2016
George C. Grape Community Hospital recently ranked in the 94th percentile among all reporting Iowa Hospitals in the category of Overall Rating--Emergency Department. This score, which was derived from Healthstream's patient satisfaction surveys, reflects the reporting period from January to March of 2016.
The Healthstream survey, which is reported on a quarterly basis, examines patient satisfaction in areas such as urgency shown in treating medical problems, the amount of time patient care staff spends with a patient, doctors' care shown to the patient, and pain management.
"At the hospital we place a strong focus on hardwiring the behaviors that lead to patient satisfaction," explained Hospital CEO Mike O'Neal. "Whether it's our Emergency Department, Specialty Clinics or Inpatient services, we want our patients and their families to feel as if their healthcare needs are completely taken care of. This most recent score for our Emergency Department suggests that we're going about this the right way. I'm tremendously proud of all of our staff who contributed to this excellent result."
George C. Grape Community Hospital is a non-profit, critical access hospital in Hamburg, Iowa that offers a full array of services including 24 hour emergency care, outpatient specialty clinics, inpatient/acute care, and physical and occupational therapy.
Facility Hours:
24 hours a day
7 days a week
365 days a year
Contact Us:
Phone:
(712) 382-1515
Fax:
(712) 382-1503
Right Care. Right Here.
At George C. Grape Community Hospital, we understand that healthcare is evolving. Advancements in medicine and strides in technology are providing local communities access to better healthcare. It is our desire to provide the best care in our region. Our staff will be here to help you and your loved ones when the need arises. The comfort and care of our patients is our major goal.
Services are provided without regard to race, color, national origin, handicap, age, gender, religious affiliation, or socio-economic status.
More details.