New Director of Social Services/Discharge Planner/Employee Education Coordinator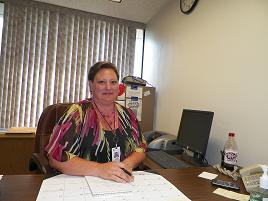 Mike O'Neal, CEO of George C. Grape Community Hospital is pleased to announce that the hospital has added Teresa Hardy to the staff as the new Director of Social Services /Discharge Planner/and Employee Education Coordinator.
Teresa comes to GCGCH from a career in Nursing Home Administration. She has a BS in in Psychology from Peru State College and is a licensed Social Worker.
O'Neal comments, "We are very fortunate to have someone as experienced and qualified as Teresa, who can be an advocate for our patients and their families, and provide much needed support to our staff."
Teresa brings to the position seventeen years of experience in working with community, families, medical staff, area hospitals and nursing home administrators. She spent three years as an Administrator for the Ambassador Health Care System.
Teresa and husband Brian live near Randolph and have five children and two grandchildren. She loves being involved in community and school events.
Facility Hours:
24 hours a day
7 days a week
365 days a year
Contact Us:
Phone:
(712) 382-1515
Fax:
(712) 382-1503
Right Care. Right Here.
At George C. Grape Community Hospital, we understand that healthcare is evolving. Advancements in medicine and strides in technology are providing local communities access to better healthcare. It is our desire to provide the best care in our region. Our staff will be here to help you and your loved ones when the need arises. The comfort and care of our patients is our major goal.
Services are provided without regard to race, color, national origin, handicap, age, gender, religious affiliation, or socio-economic status.
More details.