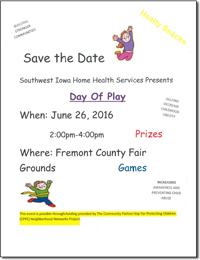 Day of Play June 26, 2016
Southwest Iowa Home Health Services, a department of George C. Grape Community Hospital, plans to host their fifth annual Day of Play on June 26, 2016 from 2:00 pm - 4:00 pm. This local event is intended to encourage physical activity and wellness and to bring families together in an effort to reduce child abuse. All families throughout Fremont County are encouraged to attend this free event.
Participants will sign up and participate in the event at the Fremont County Fairgrounds, where there will be many fun activities, healthy snacks, educational handouts and prizes.
The event is being held in cooperation with the schools and other businesses throughout Fremont County and is made possible by Southwest Iowa Home Health Services/Fremont County Public Health and the Neighborhood Networks grant from the Community Partnership for Protecting Children.
Facility Hours:
24 hours a day
7 days a week
365 days a year
Contact Us:
Phone:
(712) 382-1515
Fax:
(712) 382-1503
Right Care. Right Here.
At George C. Grape Community Hospital, we understand that healthcare is evolving. Advancements in medicine and strides in technology are providing local communities access to better healthcare. It is our desire to provide the best care in our region. Our staff will be here to help you and your loved ones when the need arises. The comfort and care of our patients is our major goal.
Services are provided without regard to race, color, national origin, handicap, age, gender, religious affiliation, or socio-economic status.
More details.