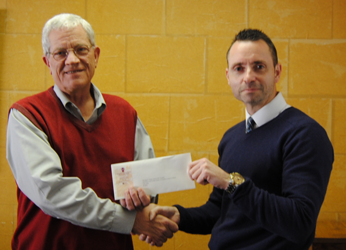 Hospital Awarded Fremont County Community Foundation Grant
April 12, 2016
The Fremont County Community Foundation Advisory Board has awarded George C. Grape Community Hospital a grant in the amount of $14,050 through the Fremont County HF 2302 Grant Fund.
The Fremont County Community Foundation was established in 1998 for the purpose of awarding grant funds to non-profit organizations within Fremont County whose projects and initiatives are designed to address important community needs.
The grant was awarded specifically to assist in funding the hospital's renovation and expansion of its outpatient specialty clinic facilities. This project involves the renovation of the existing patient examination room, and the renovation and conversion of two adjacent rooms into a new patient examination room and a physician's library.
"With the additional examination room, two clinicians will be able to see patients at the same time," explained hospital CEO Mike O'Neal. "This will reduce patient wait times, offer more flexibility for patients in scheduling, and potentially attract new clinicians and specialty services."
"It's always our goal to ensure that our patients won't have to leave the community to get top quality specialized medical care," O'Neal continued. "This project will take our outpatient services to an even higher level of quality, and we're very grateful to the Fremont County Community Foundation Advisory Board for recognizing how this project benefits the community."
The outpatient specialty clinic renovation and expansion marks the continuation of the hospital's long term plan to renovate and modernize its facilities. Since 2014, the hospital has renovated and expanded its Rehabilitation Center, doubled the size of the hospital laboratory, and renovated 3 inpatient rooms.
Facility Hours:
24 hours a day
7 days a week
365 days a year
Contact Us:
Phone:
(712) 382-1515
Fax:
(712) 382-1503
Right Care. Right Here.
At George C. Grape Community Hospital, we understand that healthcare is evolving. Advancements in medicine and strides in technology are providing local communities access to better healthcare. It is our desire to provide the best care in our region. Our staff will be here to help you and your loved ones when the need arises. The comfort and care of our patients is our major goal.
Services are provided without regard to race, color, national origin, handicap, age, gender, religious affiliation, or socio-economic status.
More details.