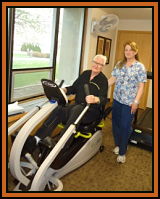 Rehabilitation Gym
Mission Statement
Physical wellness is the rule rather than the exception. The George C. Grape Community Hospital Rehabilitation Gym strives for its patrons to be conscious of their health through movement, stress reduction, eating sensibly, and improving muscle strength and balance. More than a goal, wellness becomes a way of life.
FREE Pass to Rehabilitation Gym for Patients:
Patients receiving physical therapy, cancer care or cardiac rehab are encouraged to maintain an exercise routine during their treatment at no cost. Then for another 30 days after the treatment has ended, patients are encouraged to use the Rehabilitation Gym free of charge. We want your healthy lifestyle habit to become a permanent habit.
Membership Fees
Individual Pass - $20.00 per month
Senior Individual (over 60) - $15.00 per month
Family Pass - $35.00 per month
Guest Pass - $5.00 per day
Rehabilitation Gym Hours
5:00 am - 12:00 am (Midnight)
Location
The Rehabilitation Gym is located in the building across the parking lot from our main Hospital at 2967 US HWY 275, Hamburg, IA.
Secure Access
A secure keycard system is used to keep our patrons safe. Access is granted to members who keep their fees current and the keycard is mandatory for entry to the building after-hours. A security camera is located in the Gym for added protection.
Visiting Hours:


Monday - Friday

7:00 am - 5:00 pm

Check-in at Main Entrance


After Hours | Weekends

Ring the Bell at Entrance

Emergency Room Hours:


24 hours a day

7 days a week

365 days a year

Outpatient Clinic Hours:


Monday - Friday

7:00 am - 3:30 pm

Saturday Clinic Hours:
Schedule Your Visit:
Right Care. Right Here.
At George C. Grape Community Hospital, we understand that healthcare is evolving. Advancements in medicine and strides in technology are providing local communities access to better healthcare. It is our desire to provide the best care in our region. Our staff will be here to help you and your loved ones when the need arises. The comfort and care of our patients is our major goal.
Services are provided without regard to race, color, national origin, handicap, age, gender, religious affiliation, or socio-economic status.
More details.