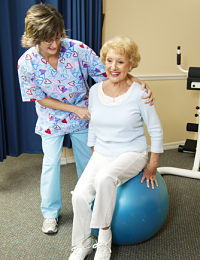 Physical and Occupational Therapy
A branch of rehabilitative health that uses specially designed exercises and equipment to help patients regain or improve their physical abilities. Midwest Rehab Professionals offer outpatient and inpatient physical and occupational therapy services for persons with musculoskeletal, neurological and orthopedic conditions. Our licensed professionals treat conditions such as:
Acute neck and back pain
Fractures of the spine or extremities
Total hip or knee replacements
Sports injuries
Hand injuries including tendon repair, carpal tunnel syndrome
Work related injuries
Motor vehicle accident injuries
Lymphedema
Balance and vestibular dysfunction
Physical therapy offers training in how to walk with a cane or walker, strengthening exercises, balance training. Physical therapy provides treatment for people after sports injuries, knee and hip surgery, and back surgery. Our physical therapist department also addresses general back and neck problems, wound care, posture and flexibility issues, and education.
Occupational therapy is available for the evaluation and treatment of persons with hand and arm injuries such as wrist fractures, crush injuries and cumulative trauma disorders of the hand and upper extremity. Occupational therapy also offers training in activities of daily living such as bathing and dressing, home evaluations, and home safety recommendations. Adaptive equipment and training is available for those suffering functional loss after surgery or injury.
Facility Hours:
24 hours a day
7 days a week
365 days a year
Contact Us:
Phone:
(712) 382-1515
Fax:
(712) 382-1503
Right Care. Right Here.
At George C. Grape Community Hospital, we understand that healthcare is evolving. Advancements in medicine and strides in technology are providing local communities access to better healthcare. It is our desire to provide the best care in our region. Our staff will be here to help you and your loved ones when the need arises. The comfort and care of our patients is our major goal.
Services are provided without regard to race, color, national origin, handicap, age, gender, religious affiliation, or socio-economic status.
More details.